Greetings from Joanna Quintrell, Executive Director of Journey Center Association…
I am delighted to reach out to you today to share this video (7 minutes) and an update about how the Spirit is at work in people's lives through the gifts of spiritual direction and contemplative community that we at the Journey Centers have been called to bring to the world since 2003. 
The invitation we offer to everyone is "Come as you are…Encounter the Holy…See what happens!". In the video, you will hear the stories of six special people who have experienced this.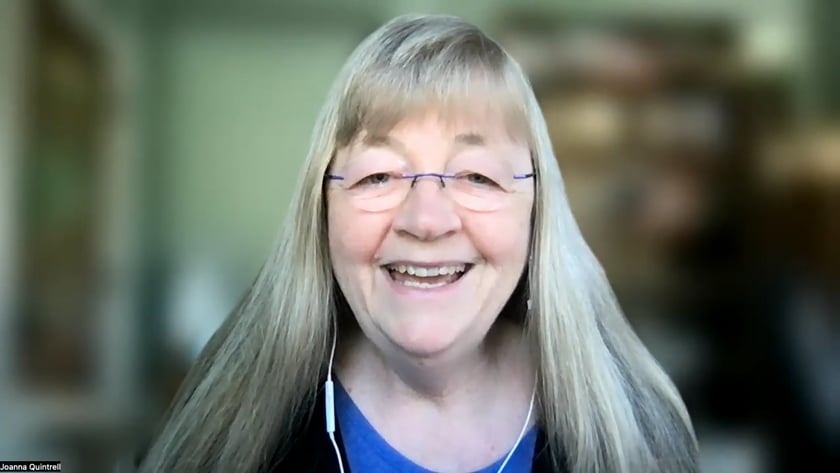 Click on the play button to watch the video.
The great news is that we currently have Journey Centers (established and forming) in Santa Rosa, California; Chicago, Illinois; Christchurch, New Zealand; Michigan; Oregon and also Journey Center Online! Together we offer a wonderful variety of workshops, groups, retreats and other resources to support and bless you on your spiritual journey, and most of these are available to you virtually. Two of our Journey Centers offer spiritual director formation/training programs and we are honored to have graduated 70+ spiritual directors who serve in their communities and online.
I love serving as the director of the Journey Center Association, which brings together all our Journey Centers in supportive community.
"It's so moving to watch people encounter God in the midst of their life, their struggles, their pain, their questions, their doubts, their ponderings… As people are heard deeply, listened to deeply, their stories held, as people feel safe to be who they are and to share their stories, they experience God."
"There's an expectation of safety and welcome and openness that is really difficult to actually enact in the real world and I see it happening at the Journey Center."
We are so excited about the possibilities that are unfolding before us… in the midst of these troubling and challenging times, our Journey Centers offer an oasis where you can be renewed and restored, discover and live from your authentic self, and discern how you are being called to bring love and light to your world. To that end, we at the Journey Center Association are grateful for the opportunities the Spirit is inviting us to in the year ahead:
expansion of our website offerings and our support/mentoring of those serving at Journey Centers (or discerning about birthing a spirituality center in their community)


increased publicity and marketing so that more people can be blessed and transformed by encountering the Holy


continued development of our Spiritual Director Formation Program, which is now in hybrid format, open to everyone in any location.
Perhaps you have been blessed by something offered by the Journey Center (prayer/mediation groups, contemplative and Enneagram workshops, individual/group spiritual direction, community through various groups and gatherings, retreats, SD program, etc.). Some of you were part of the birthing of the first Journey Center and have been amazed along with us as God's vision has unfolded over these years! Maybe you are one who recognizes the need in our world for these kind of spiritual resources and you want to help make it possible for us to say "yes" to the Spirit's invitations in 2023.
If so, I am glad to let you know that we have received donations from former and current board members and thus are able to double any financial gift through our end-of-the-year Matching Funds Campaign for the Journey Center Association. As you feel inspired to make a gift of any amount towards our $15,000 goal, you can know that it will be matched and received with much gratitude! I am available to answer any questions you might have, and your gifts are tax-deductible. We know that it is that time of year when many nonprofits are raising funds for next year and so we are praying for you as you consider how the Spirit is leading you. Thank you so much!
With MUCH love and gratitude,
Joanna Quintrell, Executive Director, Journey Center Association

To discover how the Spirit might be inviting you to join us for a particular resource for your spiritual journey, here are Journey Center website links for you to explore:
"Come as you are means I can see myself as I truly am in the light of God's loving presence."
"Recognizing the power of being able to come as you are and the radical nature of that invitation is transformative because that's what we all long for."
"The awareness that God is all around me and God is so accessible and to encounter the holy through these different pathways means I can encounter God wherever I am and that God is with me always."
"My experience has been with all things Journey Center is you're not only invited to come as you are, but you're received as you are, as well."